NCEdCloud (North Carolina Education Cloud) is an Online Portal which provides Cloud-based learning resources. NCEdCloud Iam Service gives self-service capabilities to all users and delegation capabilities to all PSU administrators (Charter and district school).
Login into NCEdCloud
To Sign IN to your "NCEDCLOUD ACCOUNT", follow the below steps:
Click here or enter My.Ncedcloud.org in your browser.
Select "NCEd Cloud" option.
Enter your Username (State UID number) as shown below :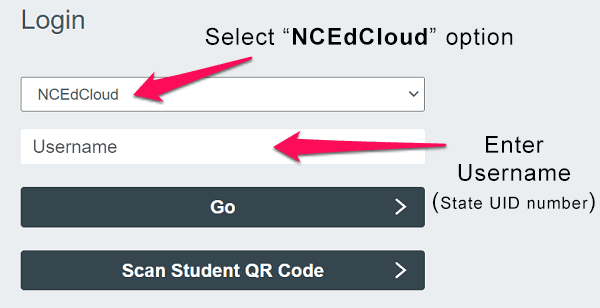 Then, Click on "Go" button.
Next, Enter your Password.
Again, Click on "Go" button.
On successful validation, you'll be logged in to the NCEdCloud IAM Service.
Login using Scan Student QR Code
You can also login using NCEdCloud Student qr code. Here's how:
Go here or visit My.NcedCloud.Org
click on "Scan Student QR Code".
Next, You need to allow Camera access your QR Code as show below:
Once QR Code is verified, click on "Start over" button.
On validating your details, You will be given access to Portal.
Note : All employees with a Privileged Role are required to use Multi-Factor Authentication (MFA) when logging in.
Claim My Account
A Student and Staff member can claim their Account by following these steps:
Claim Account (Staff) :
Go to NCEdCloud Iam portal
On the login screen, click "Claim My Account"
Choose "LEA Employee Claim Policy" from the dropdown and press "Next".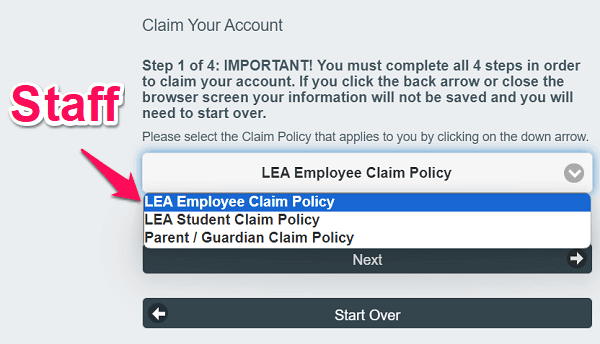 Enter your claim info, complete the ReCaptcha, and click "Next".
Create a password according to the rules. Once your password matches in both boxes, "Next" will activate. Click "Next".
Answer the minimum challenge questions as instructed. When ready, scroll down and hit "Next."
You'll reach a confirmation page for your claimed account, and your Username will be in green.
Claim Account (Student) :
Access NCEdCloud Iam portal.
Click "Claim My Account" on the login screen.
Choose "LEA Student Claim Policy" from the dropdown and press "Next"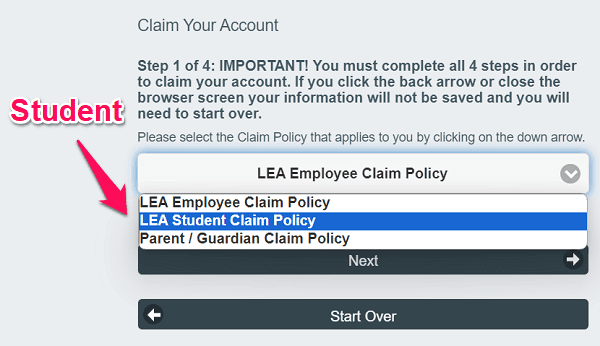 Enter your claim details, complete the ReCaptcha, and click "Next"
Set a password and Click "Next."
Answer the required challenge questions as instructed. Scroll and hit "Next" when ready.
You'll find a confirmation page showing your successfully claimed account, with your username in green.
NCEdCloud features
The Iam Service provides a wide range of features and benefits for Students, Teachers & LEA Administrators depending on their roles.
Student Login :
Ability to access their Class Materials from anywhere.
Can collaborate with Classmates, Professors, and other Students using the platform's built-in tools.
Can get help from peers on any question they have about the Course Material.
Ability to work together on projects and presentations with other classmates or group members.
Secure data storage and transfer.
Ability to easily share files via email or other Education app's.
Students can Log In to their Account with a "NCEdCloud Badge" (QR Code) if the Public Schools has chosen this option.
Support for multiple languages, including English, Spanish, French, and Arabic.
Teacher Login :
View their Student's profiles.
Ability to create Classes, enroll students in those Classes, Assignment Materials to be read, and Track the Progress of their Students Learning.
Restore their Student's passwords.
Access their Class Grades through the platform's dashboard at any time.
Have access to all Student work (Assignments, Discussion posts within the platform).
It is available 24/7 and can be accessed from anywhere in the world with an internet connection.
App is available for iPhone and Android devices.
LEA Administrators Login :
View the contact information for all district students and employees.
Create sponsored accounts for Guests.
Gain insights into Student Learning with easy reporting tools
Enable and disable accounts, or password-protect pages via the control panel.
Streamlined workflow for easy Classroom Management.
Access Grades, Assignments, and other information about your students progress in one place
One-click mass distribution of push notifications and messages to every student, teacher, parent, and education staff.
The ability to create new Courses and Study Materials with just a few clicks, or use imported content from other sources.
FAQ's:
What is Full form of NC Ed Cloud ?
Full form of NC EdCloud is North Carolina Education Cloud.
How can I change "NcedCloud Password" ?
There are two methods to change Password.
Old UI :
Go through My.NCEdCloud.org and log in.
Select "Profiles" from the left menu.
In "My Profile," tap "Change Password".
Enter your current password.
Type your new password in the second box, following password rules.
Confirm your new password in the third box.
Green check marks will show if it's correct.
Click "Save".
Now, you can use your new Password.
New UI :
Visit Idp.NCEdCloud.org
Click the arrow next to your name at the top.
Select "Change Password" from the dropdown.
In the side panel, enter your current password.
Type your new Password, following the password rules.
If the new password is okay, all green checks will appear for requirements and no red marks for restrictions.
Once the new password matches in the second and third boxes, Click "Save" to finish.
How can I get my Username?
There is a method to retrieve your Lost/Forgotten Password.
Access Idp.NCEdCloud.org
On the login screen, click "Forgot My Username".
Enter your Account's email and solve the ReCaptcha. Click "Next".
Check your email for a message containing Username.
How can i get reach Help desk for help?
There are two ways to reach out to Customer Support.
Help Desk : [email protected]
For Support Community : Click here
Note: Help Desk phone number is not available yet.
How do I request additional roles that will give me access to manage my users?
Log in at NCEdCloud IAM Service.
Click on the modules dropdown at the top.
Choose "Requests" from the dropdown.
Go to Entitlements >> Catalog.
Tick the checkbox for the entitlement you want.
Click "Request" at the bottom.
In "Requesting Entitlement," enter the code in ALL CAPS for your LEA or PSU.
Click "Request."
Visit Entitlements >> My Entitlements.
Your requested entitlement appears with "Your Request is Pending" status.
Open "Details" for more info (like "Grant in Progress" or "Grant Pending").
Once granted by LEA Administrator, you'll see a check mark and "Your entitlement has been granted" status.
Log out and back in to see access changes.
What are the Modules available in Portal?
Portal provides a number of Modules for Students. They include :
Analytics Dashboard
Data Security
DNS
Support Communication
Taining
000- iReady SP Mod Testing
Amplify Assessments
Canvas – Icon Placeholder
canvas – NCDPI
Discovery Education
What are the Staff modules available in Portal?
There are many modules for School Staff inside Portal. They include:
Applications
People (Whitepages)

First Name
Last Name
Students (QR Codes)

Requests

School Help
Test Entitlement
LEA Administrator
LEA help desk
Tasks
Catalog

Dashboard

000- iReady SP Mod Testing
Amplify Assessments
Canvas – Icon Placeholder
Discovery Education